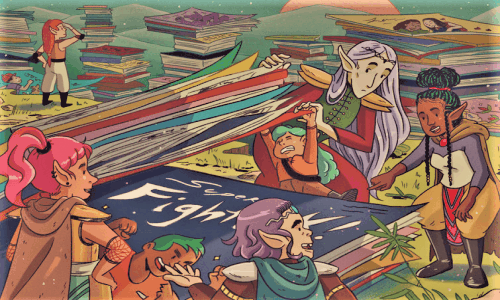 Many comics still resist. The culture of the graphic novel has succeeded in attracting a new audience and changing the topic, yes, but much remains to be done. And is that sometimes to enter the world of the comic is an adventure. Where do I start? What's the best thing I have to read? As in cinema or novel, in the ninth art, the first thing the reader should ask is the genre he is attracted to. Because, obviously, there are as many stories in the comic as creators, as many styles as feathers, and genres as you can imagine.
From this desire to attract all kinds of readers, and at the same time to review some of the great works of the comic book coming from all over the world, in the Country Showcase we have made this selection of 5 fundamental works to understand and enjoy this art, and which in turn are also different in their conception and qualities.
There is from humor to science fiction, to superheroes, essays, and historical chronicle. If you read everything you've selected, you'll be able to have a conversation as a scholar in the art of cartoons. Yes, missing Mafalda, Calvin and Hobbes, The Fantastic Four Lee and Kirby, Asterix, Tintin, a Neighborhood Far, Persepolis or, stories journalism of Joe Sacco. Ten more lists could be made and would be imperfect and subjective. They are not all that they are, but they are all that they are.
Watchmen (Alan Moore and Dave Gibbons, 1986-1987)
Whether in the Swamp Thing, the league of extraordinary men, Miracleman or, Watchmen, there is one thing Alan Moore does better than anyone: he takes an established concept and turns it around to another level, almost to deconstructing the whole genre. That is precisely what he does in possibly the best story of the superheroes of the story, one that inherits an entire time to destroy it and bring the comic superhero to another level. Do not be fooled by Zack Snyder's film adaptation or by the lycra costumes and classicism of Dave Gibbons, because Moore manages in this series to break the established rules to delve into the philosophy and deeper concepts of the human being.
Sandman (Neil Gaiman and various illustrators, 1988-1996)
Sandman couldn't be anything but a comic book. Neil Gaiman's Magna work delves into the mind of the Morpheus God to design whole mythology that sits in the heart and humanity, but whose journey is most atypical, as dreamlike as its own protagonist. Sandman is also the best reflection of an entire era, in which DC Comics (and editor Karen Berger) decided to bet on an adult label that led them to new levels of quality: this new adventure was called Vertigo and there its creators gave free rein to the imagination with total freedom. Gaiman builds his interwoven tale almost to levels of modern Aesop Fables, at dark times, at colorful times, but always with the unmistakable signature of the British who does not cut himself in mixing superheroes with vagabonds, history, William Shakespeare and Greek gods. There are so many characters and stories in Sandman, it would be impossible to keep one.
Maus (Art Spiegelman, 1977-1991)
In 1992, Maus became the first graphic novel to win a Pulitzer. And it wasn't for nothing. Art Spiegelman used the felt story of his father during the holocaust to weave a history of the Second World War human and real, raw, but also funny and, above all, made an effort to understand all of the decisions (for evil that is seen when we take the backward look) of their protagonists. Maus, where the Jews were mice and the Nazi cats, reflected, after all, Spiegelman's need to understand his father, with all his flaws and dark spots. The biographical novel then became something that many of the independent authors who came after would copy.
All-Star Superman (Grant Morrison and Frank Quitely, 2005-2008)
Grant Morrison wrote in this maxiseries to the ultimate Superman, reviewing each of the characteristics of his long mythology and exploiting his most colorful, optimistic and adventurous side. The Scotsman rejoined cartoonist Frank Quitely to prove that the original and classic concept of the superhero par excellence did not need to be out of date. Few pages' dazzles with as much imagination and madness as those of this story. There is no better person in this heroic Superman. There's a reason it's a modern myth, an icon as recognizable in the 21st century as God himself or McDonald's. And if you think it's boring, read it again.
V De Vendetta (Alan Moore and David Lloyd, 1982-1988))
"Remember, remember, November 5. Conspiracy, gunpowder and treason." The V mask, based on the historical character Guy Fawkes who tried to blow up the British Parliament, is an icon of our century and of social movements. But Alan Moore didn't have that in mind when he wrote V of Vendetta. The bard British took the story of Fawkes to introduce a revolution in a world that was both 1984 of George Orwell and, of step, not only to raise its voice against the Government of Thatcher, or fascisms but also against the anarchy and surroundings. All this is narrated from the perspective of an influential young woman. A sample of a first-born Moore, who already shone before everything that appeared in his future.