‹ PreviousNext ›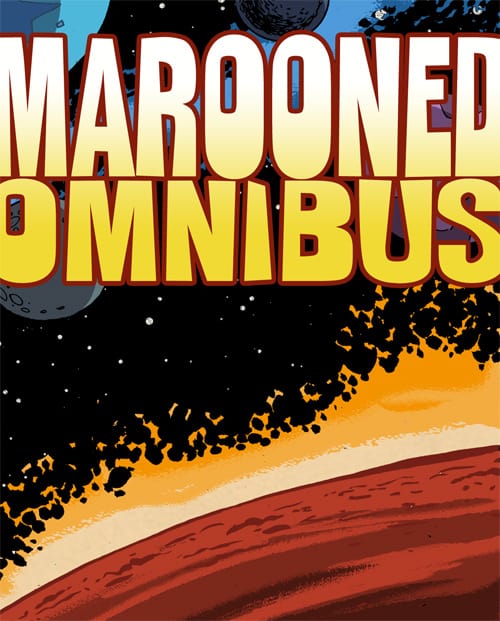 I mentioned some time ago that I was thinking of putting together a large edition of about everything I had done for Marooned. Well this is it – the Digital Omnibus! Since there may not be another printed Marooned book for awhile, I thought it might be fun to offer this. This huge edition covers 205 pages and has everything that has been printed in the first two books, and a bit more. To be more specific:
All Marooned comics #1 – #272
Various "one-off" comics that were done, such as "rock towers" and the Commander & Scout strips
All the bonus art done by various artist friends like Steve Ogden, Eddie Pittman, Denver Brubaker and more (too many to list!)
That includes all the bonus "Sunday Comics" extra stories from Mars Wars
"Payload" by Steve Ogden, the 6-page Lian and Hogan story
"Evasive Maneuvers" by myself, the 11-page John and Asimov origin story
Unbelievable Adventures of Dr. Ugofandian strips
Short stories "Green" and "The Tallest Robot" by me
Robojig strips, Peanuts tribute
Development artwork
Basically this is the full Marooned catalog up to (but not including) the current story with all the goodies included. All this in a 205-page whopping PDF which you can read online at your leisure, exported at high enough resolution to zoom in and read however you like. You can even print it out if you like, if you feel like using the paper and ink!
What does this awesome omnibus cost you? Well, whatever you like.
It's very simple, make a donation of whatever amount you feel is appropriate for you, and you will be directed to a page with the link to download. That's all there is to it. Just hit the donate button below to get started. Hope you like it, enjoy!
(P.S. Cover image is art from "A Princess from Mars" – a side project on hold from myself and Denver Brubaker. Hope Denver doesn't mind me using this frame of art!

)