Prince: $9.99
Paperback: 64 pages
Dimensions: 8 x 10 inches
LOTS of bonus content that will not be available online – ever!
Note: The mission log is not included in the 2nd printing.
Download the FREE 10-page preview here!
Praise for Marooned
"Suddenly, "Marooned" went from another casualty on the webcomic highway to something you eagerly awaited every Monday and Thursday, and wished it was more. It went from three panels of simple drawing to multiple panel, complex layouts with terrific art. It found its own voice and its own soul."
– Tom Racine of Tall Tale Radio from the Introduction.
"[Marooned] hits all the right spots; it can be clever, smart, fun, and beautifully rendered."
– Christopher Schultz, Webcomicz.com
"Marooned shows marked cohesivity, and its down-to-earth sci-fi story makes it a good recommendation for webcomic enthusiasts and the average reader alike."
– Jackson Ferrell, This Week in Webcomics
Looking for a webcomic that has the feel of Edgar Rice Burroughs or E.E. Smith but the Heart of Calvin and Hobbes? Then Marooned is the comic for you… The jokes are well timed and the story is fun to read. I am particularly a fan of the vivid colors and the well thought out character development. If you were ever a fan of science fiction, you will certainly appreciate Marooned…
– Kelly Melcher, Fandomania
Inside the Book
The First 100 Marooned Strips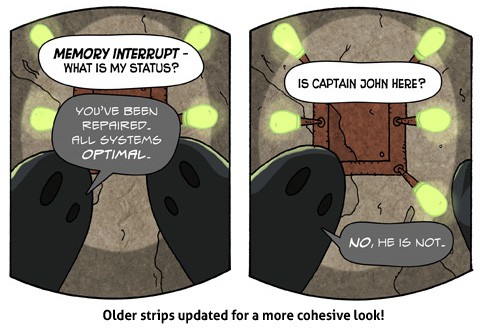 Covering a little over the first year of Marooned. I've gone back and updated the look of a majority of the first 60 or so strips just like I did in "Classics Week" in order to give the strip a more cohesive feel. The freshening up included taking care of a few typos, updating the look of some effects, fixing speech bubbles, correcting color and adding some depth.
The strips cover John and Asimov's arrival, the "Saga of Bob" and the beginning of the current story, including the introduction of The Dark Ones.
Exclusive Short Story: Payload by Steve Ogden
(Click image for full page preview!)


The Uber-talented Steve Ogden steps in to ply his trade on Marooned! We've met Lian Fisher, a human woman who was a pilot for the New Frontier Federation just like John. She is now The Listener for the Dark Ones. But how did she arrive on Mars in the first place?
Payload answers that question. Follow Lian Fisher as she arrives in Mars orbit to perform her mission – and find out what went wrong. You've seen Steve's Moon Town – you won't want to miss his amazing work on this story! Additionally, Lian's story is an important part in the overall Marooned story and won't be published online. Marooned fans won't want to miss it!
Steve Ogden has been drawing and writing since shortly after birth. He makes computer games by day and draws comics like Moon Town by night.
Exclusive Short Story: Green
In my first foray outside of Marooned, Green is a short story about a robot. Hm, I think I have a thing about robots. You've seen the promo images, but what is Green really about? The story opens with a robot in a desolate environment searching for something. He explores the wasteland as he begins to suffer. Will he find the answer he seeks?
Green is an allegorical story about those who become very sick, and their struggle to find something that will bring them out on the other side.

Bonus Strips
All five Marooned bonus strips are included. Strips 1-3 of "The Unbelieveable Adventures of Dr. Ugofandian" (featuring Floopy, of course), The bonus strip from the Ashcan comic – in color – and the Christmas strip.
Mars Orbital Surveyor Image Gallery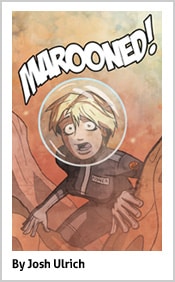 What do you get when you ask some wonderful and amazing artists to provide their take on Marooned characters? You get the Mars Orbital Surveyor Image Gallery! Gazing from the safety of the Orbital Surveyor, these talented artists provide a fresh and stunning look into the Marooned world. We're talking eye candy here people!
I'm humbled and honored that the following friends and colleagues and agreed to provide art for the book:
Brian Anderson, syndicated cartoonist of Dog Eat Doug
Eldon Cowgur, creator of the comic Astray3
Irma Eriksson, creator of Imy the Comic
Jessica Garibaldi, J. Garibaldi (commonly referred to as Gari) wears many hats: Animator, Illustrator, Character Designer, Armchair Cryptozoologist, and stubborn Bibliophile. Visit her blog to see what she's been fooling with.
Brock Heasely, creator of the comic The Superfogeys
Honoel A. Ibardolaza, or commonly known as "HAI" to his handful of friends, is a children's fiction writer and illustrator and creator of the comic By Moon Alone
Barb Jacobs, creator of the comic Xylia Tales as well as the illustrated novella Nigel's Opus. Previously she created the popular Talismen comic.
Andrea Pearson, Recent graduate of Columbia College Chicago. Andrea is currently working as an Art Intern at slot machine innovator WMS. Visit Andrea's blog
Eddie Pittman, creator of the comic Red's Planet and an animation industry veteran.
Dave Pryor, Chicago born artist/animator who has worked on several TV cartoon series (most notably Warner Bros. Tiny Toons and Animaniacs) and currently works as Art Director for slot machine innovator WMS. Visit Dave's blog.
Michael Regina, an award winning film editor, painter/illustrator. He is largely known for his portraits and comics work. His portraits and paintings have been cited in Jacksonville, FL's "Arbus" magazine, and he's represented by several local galleries. Creator of the comic From Death Til' Now
Bob Rissetto, Character designer and animator, Senior Artist at WMS Gaming, and lover of all things orange. Bob can be reached at bob.rissetto.art@gmail.com and you can also visit his blog
Josh Ulrich, creator of Newman
Development Art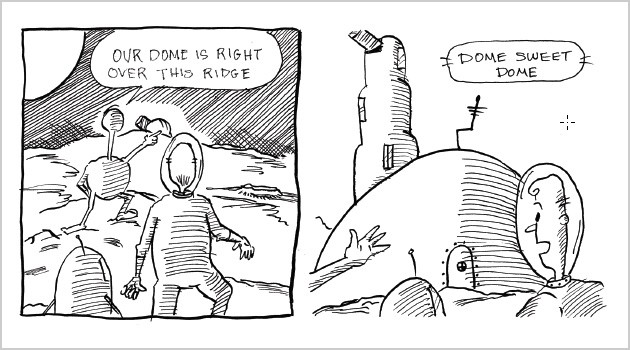 Selected pieces from the Marooned vault. There'll be a couple of the development strips I did before the strip was launched, showing some very different looking characters and techniques. Early character designs and illustrations as well as some ideas that didn't make it into the strip.