‹ PreviousNext ›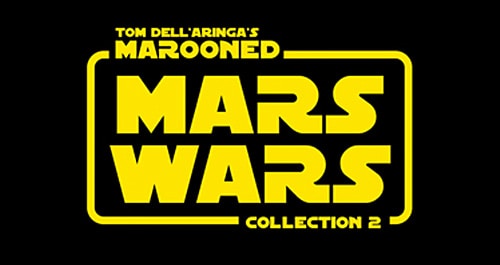 Mars Wars is starting to really take shape now, so here's an update on what's going on with my progress and the book content. As you may have already seen, I've got a rough of the cover. All the regular strips (127 of them!) have been placed in the book and I've gotten a bit more than halfway through the Mission Log (creator commentary) on them.
Good progress is being made with the guest Marooned comics. I've got about half of them delivered, and everyone else is making good progress. I have 2 new additions to the list. Denver Brubaker from Tales of a Checkered Man! (a comic I've talked about before and love) has come on board with a really fun 2-page story (I just approved the script yesterday). And Scott King's team that does the comic "Holiday Wars" has also jumped in with a interesting Lian script. So the guest spots are all filled. See the list below for the whole shebang.
I have to fill in the episode title pages that I haven't done yet. I got a start on that yesterday. Yesterday I also finished penciling and inking page 9 of Evasive Maneuvers, as well as coloring page 8. It's coming along nicely and should be finished soon. I think you're going to like the story and seeing John and Asimov's first encounter.
This weekend I plan on digging through sketchbooks and artwork to put stuff together for the vault material (development art). Once I have most, if not all, of the guest comics in, I'll make one long blog post with a preview from ALL of them

And yes, just like last year, there will be a FREE preview of the book in PDF form.
Looks like there will be over 40+ pages of bonus content this year!
Quick Note: there are bids on the two pieces of original artwork. You have about a day or so to get in on the action if you are interested.
Mars Wars Updated Book Content
Comic strips #101 – #228, which includes Episodes 5 (The Listener) through 8 (Brains From Another Planet), as well as the short story (Shapes of Things) – the one about the Gooble.
"Evasive Maneuvers" by me. This is the story of how John and Asimov met and ended up working together. 11 full color pages.
"The Tallest Robot", the 9-page short story which I published for the SPACE show earlier this year.
A 2-page Marooned short by Steve Ogden (of Moon Town fame of course) titled "Thanks for Nothing."
A 2-page Marooned short by Christopher Baldwin of Spacetrawler (as well as Little Dee, Bruno and MAD magazine!)
A 1-page Marooned short by Mike Maihack of Cleopatra in Space
(NEW!)A 2-page Marooned short by Denver Brubaker of Tales of a Checkered Man!
(NEW!)A 2-page (I think) Marooned short by Scott King's team from "Holiday Wars"
Something unique and special from the amazing Eddie Pittman of Red's Planet – although I don't know what it is yet! (But if Eddie says it's special and different, you can bet it will be!)
A Marooned short from Michael Regina, most recently of Kevin and the Light of Destiny
Either a Marooned short or pinup art from Josh Ulrich, most recently of Jackie Rose
Some great illustration work from Bob Rissetto (an artist friend of mine at work, he did the Lian pinups in book 1) and Ramón Pérez of Kukuburi, and probably something from my daughter Amanda again (and she is getting darn good!)
The 1-page John & Asimov comic I did awhile ago "click click" (which was briefly posted, but not now online).
The Mission Log, my creator commentary on all the strips on each page, just like book 1.
Various pieces of development art and illustration that I've done over the past year. Still sorting through exactly what that will be.