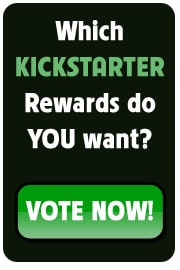 With the end of the year approaching, it seems everyone has a list to talk about. Since I'm in the business of webcomics, why not talk about webcomics, right? I'm a fairly avid reader of comics online, and I'd say I have close to 30 in my reading list. Certainly I follow some more than others, and some are on hiatus and not updating. And it does seem like I discover a new one to at least check out for awhile every month or so.
So I decided to put together a "must read" list of the top 15 comics I enjoy. These are basically the ones that I make it a point never to miss, if possible. Certainly no comic is perfect (although there are a few on here that are mighty close), so I will give you my pros and cons of each one. I've certainly mentioned some of these before, so I won't belabor that point.
Keep in mind these are in no particular order – just the top 15. Here we go:
Derelict by Ben Fleuter. Updates on Mondays. An excellent post-apocalyptic story where a deluge has ravaged the Earth. The main character is a woman scavenging on a ship. There's lots of mystery early on, a couple of scary encounters and there's clearly layers and layers of rich story to be explored. The art and coloring are as excellent as the story. If this comic delivers on the early promise, it will be really great. PROS: Great story, fine art. CONS: Only 1 update per week. Only an off-site forum to participate/interact which requires registration. Some material not suitable for younger kids.
Moon Town by Steve Ogden, restarts Jan. 3rd. Eye-popping art and smart writing are hooks in this super fun science fiction comic. Steve knows how to write nuanced characters and how to really put you into an environment. And the pages are so beautiful you just can't stop looking at them! PROS: Awesome story and art. Great character design. CONS: Is on hiatus – but is returning January 3rd!
Tales of a Checkered Man by Denver Brubaker, updating once a week. This is my kind of superhero story. A flawed hero that has heart, with some comedy thrown in. But don't let that fool you, as the story writing is excellent. Denver knows how to weave a mystery. He's taken the black and white art road, and seems to be a master at it. The shadows and silhouettes fit the comic perfectly. It's a joy to read and a joy to look at. PROS: Smart and unique art, fun story. CONS: Only 1 update a week – wish it could be more!
reMIND by Jason Brubaker (no relation to Denver), on hiatus awaiting next chapter. reMIND is a Graphic Novel that is being published online. A Xeric Grant winner (and successful Kickstarter project), reMIND is the story of a pretty interesting cat named Vittles and his owner, Sonja. Things are definitely not what they seem early on! All we know is that there are various sightings of Lizard Men on the island. Is it real, or fake? Well, I can't say too much without spoiling things, so you'll have to read it for yourself. Really unique story here, with lots of twists and turns to surprise you. Awesome art – Jason really puts a lot of thought into each page and each page spread as well. Volume 1 has already been printed as an amazingly well done hardcover (I have one on my bookshelf) and he is currently working on book 2. Now is a great time to get caught up and be ready for when it hits the interwebs. PROS: Top notch quality all around from story to art and execution. CONS: You have to wait until book 2 is far enough along before the story starts up again.
Battlepug by Mike Norton, updates on Mondays. Mike is one of at least a handful of professionally working comic artists to take a stab at webcomics. So one of the first things that will strike you is that it looks pro – could easily be a Marvel/DC/Dark Horse title. The story is just getting going. At the beginning we have a beautiful lady telling an adventure story to two fun little dogs with very different personalities. The story is quite light-hearted (at this point at least) and full of over the top adventure involving a hero who is very much Conan-like. The story is just getting going, so it's a perfect time to check it out. PROS: Top notch art and a fun, more light-hearted story. CONS: Only updates 1x week – site can be very slow or fail to load at times.
Cleopatra in Space by Mike Maihack, on hiatus waiting for next chapter. Mike is a pretty well known artist and has a really appealing style. He's pretty well known for drawing lots of Supergirl and X-men girls, and so it's no surprise his heroine is Cleopatra – albeit in space! It's a really fun concept, with a melding of Egyptian and sci-fi themes. The story is well written and fun, with lots of action and of course, really fine art. PROS: Appealing art and fun, unique story. CONS: On Hiatus while he prepares chapter 3.
Ellie on Planet X by James Anderson, updates Mondays and Thursdays. I honestly don't know why Ellie hasn't taken the world by storm. It has everything going for it in my mind: Fun characters that are super well designed. Wonderful art and stunning approach to color, a great, unique concept and funny characters and situations. Some of the comics James posts are simply stunning. And you can't help but love his characters. Ellie is a robot who has been tasked to visit Planet X and report back. She's met up with the locals and has begun having great adventures. It's a mix between gag-style with a running theme – the perfect mix, really. Ellie was chosen last year by Wired as one of their best webcomics of 2010! PROS: Everything about it. CONS: It should update 10x a week.
Our Intrepid Crew by SquidDNA (art) and Riess (story), updates once a week. This is some good Space Opera. Eloree, who is an Estrow (an alien race) is the protagonist who has arrived at a space port and secured passage aboard a vessel with a group of pretty interesting characters. The story is just getting started, so there's not too much more I can say. The art is really top notch – including some great stuff involving ships and space and such early on. You are really getting the feel of alien cultures and space, they are off to a good start. PROS: Good story brewing, excellent art. CONS: Updates basically once a week – sometimes it seems less.
Gunnerkrig Court by Tom Siddell, updates Mon, Wed and Fri. Probably the most popular and long running comic on this list. A science-fantasy comic. From Wikipedia: "The comic tells the story of Antimony Carver, a young girl who has just started attending a strange and mysterious school called Gunnerkrigg Court, and the events that unfold around her as she becomes embroiled in political intrigues between Gunnerkrigg Court and the inhabitants of the Gillitie Wood, a forest outside the school." Has a slight Harry Potter feel to it in some ways. PROS: Lots of updates, in-depth story, wide range of characters and good art. CONS: Can sometimes be hard to keep all the threads in your head. MASSIVE archive to read if you are new to the strip – but worth it.
Plume by Kari Smith, updates once a week or so. Plume is a story set in the old West about a girl named Vesper Grey and her supernatural companion, Corrick. On her quest to discover her father's life work, they encounter new friends and new foes, and learn that the Wild West really does live up to its name. The summary and art pulled me in. While I am enjoying this one so far, I'm not sure how it will pan out. While I get the dynamic that is only natural between Vesper and Corrick, I'm hoping this doesn't turn into some kind of Western Harlequin romance, and there are definitely a few danger signs that it might. PROS: Great concept and wonderfully executed artwork. CONS: Updates once a week or less, so slow going, and there's a chance the story may not live up to its promise.
Little Guardians, by Ed Cho (story) and Lee Cherolis (art), updates Mon and Wed. This is the newest comic on my list. Summary: "Little Guardians tells the story of two young people switched at birth and now unknowingly living each other's lives. Subira was supposed to be the next Guardian of Yowza Village, but she was born a girl. Instead she lives a quiet life working at The Item Shop never knowing what should have been. Idem trains to be the next Guardian and tries his best to be the warrior he was never meant to be. How will the next generation survive the choices made for them as strange incidents start plaguing the village and demon attacks appear to be on the rise?" An excellent premise and I am enjoying the story so far. Guardians also sticks with black and white and does a good job doing so. PROS: Good concept and well executed art. CONS: Not sure yet, too soon!
Bean by Travis Hanson, updates Mon, Wed and Fri. Bean is High Fantasy in comic form. The story of Bean, the boy, who starts out as a kitchen boy and is thrust into deep adventure. Currently Bean is on page 335 and it's just getting started! Bean is done in black and white for now, with the hope of color in the future. The black and white art is certainly well done, but I have to admit I really like the color pages. But a person can only do so much, and choices have to be made. PROS: Big story, good art, consistent update schedule. CONS: I enjoy this comic a lot, but I would say that occasionally Travis falls into some cliche writing or over-expository pages. But this a nits, the comic is really good.
Rice Boy (Vattu) by Evan Dahm, updates 3x a week (I think). When we're talking about Evan Dahm, we're really talking about three huge stories. Rice Boy was his first (and most famous) story. Massive in scope and really unique and touching, the story of Rice Boy involves a great quest with great characters and vistas. Super art, in full color. Second was Order of Tales, which takes place in the same universe (and has at least one common character). Currently he is putting out Vattu, another epic tale once again in full color, Vattu is a story following a member of a nomadic tribe caught in the midst of a massive clash of cultures. Evan is a top-notch world builder and storyteller. I can't do any of these stories justice by giving you a summary. All I can say is that if you can find time, read it all. PROS: Vast worlds, stories and great characters, wonderful art. CONS: Well, vast stories! It's a lot to read. I've kind of stopped reading Vattu as it comes out, and will probably await the book, as it will be easier for me to keep the thread of the story that way.
Spacetrawler by Christopher Baldwin, updates twice a week (I think!) More sci-fi adventure! The galaxy operates on technology far beyond the skill of anyone EXCEPT for the Eebs, who continue to build it. Unfortunately, the Eebs have very little will-power, and have been given "non-sentient" status in order to be bred and exploited at will. This is where the main cast comes in. The crew of a spacetrawler ship kidnap a group of Earthpeople so they can free the Eebs. The story is involved, funny and twisted in all kinds of ways. The art is unique and well done. Chris is a very smart writer. PROS: Great writing, fun, nontraditional story, good art. CONS: Nothing to really not like here – just be aware it's not suitable for younger kids.
Legend of Bill by David Reddick, updates Mon & Thu (sometimes). Wannabe barbarian Bill and his best pal Frank the blue dragon, who, unsatisfied with their mundane lives as file clerk interns in the local castle accounting department, decide to set off for adventure in the free-as-a-bird life of a roaming barbarian and his dragon… and man are THEY in for a big wake-up call! This is gag-strip comedy in a fantasy setting, with an ongoing story as the background. David has a very cartoony, fun style that is at once recognizable. Bill and Frank are really fun characters. David does struggle a bit with the schedule because his day job involves working with the Garfield properties. When the strip is updating, it's pretty fun stuff, if lighthearted and silly. David has tried to fill the gaps with two "alternate" series of comics done by different artists. They are fine in and of themselves, but they aren't David's work. I wouldn't read either one on their own merits, and they do tend to interrupt the main narrative. It's not a big deal, and I understand why David does it, but as a fan, I could do without it, and would rather see more of his work. PROS: One of the best gag style strips running, with top notch art in that style and generally fun writing. CONS: Side work by different artists does break up the strip a bit and make things hard to follow.
Whew! Well there you have it. Hopefully I've pointed you to something you haven't seen yet. These comics are all done by fine artists and writers and deserve at least a chance at winning you over, so go take a look!